Juleigh Ed has a music video out on one on her songs called "FULL BLOODED HALF-BREED". Tabitha and Tiffany are featured dancers in the video.
If you would like to purchase the video, please send $19.99 plus $3.95 for shipping and handling to:
Missing Link Productions, LLC
PO Box 4137
Rock Hill, SC 29732-6137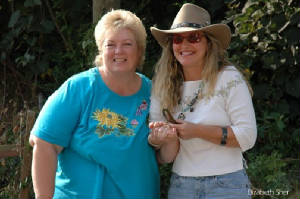 Juleigh Ed with Executive Producer Maxann Crotts-Harvey on the set of A TALE ABOUT BOOTLEGGING!